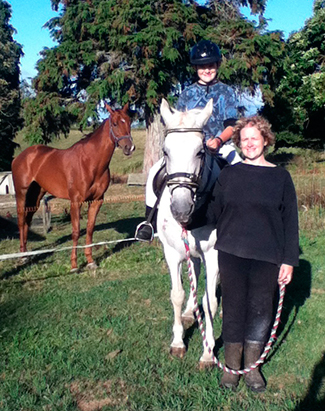 Go Racing always finds suitable homes for its retiring racehorses, but mare Cruiseonby (stable name Wilma) couldn't have asked for better.
Having won just one race in her career, the syndicate decided it was time to put Wilma out to pasture. Syndicate members, Jo and Andrew Taylor immediately  put their hand up to take her. Jo voluteers at Riding for the Disabled (RDA) in Te Awamutu and her son, Callum, rides for both RDA and the Special Olympics. They picked Wilma as a companion horse for Callum's horse, Tia.
By all accounts, she's settling into her new home well.
Says Jo, "Tia and Wilma have bonded quite quickly. She was a bit unsure of the goat and chickens at first but after being put in with Tia, she settled in quite well."
Says Syndicate Manager Albert Bosma, "We also do the right thing by our  horses after all the enjoyment they have given us. But this story is pretty special. With her placid nature, Wilma has the perfect  temperament for this type of thing and we are thrilled she is going to such a loving home."
"We wish Callum all the best for the nationals in Dunedin in December."