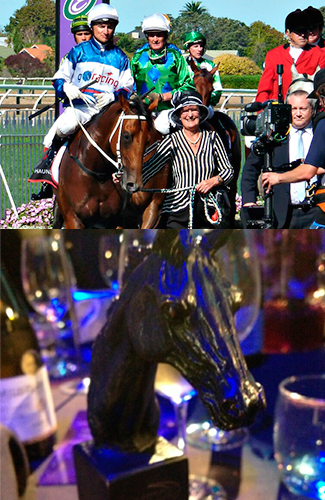 Ruud Awakening completely dominated the Group 1 Haunui Farm Diamond Stakes at Ellerslie on Saturday in the fastest 1200 m of the Auckland Cup Carnival. The run was also half a second faster than the Group 1 Railway Stakes on 1 January.
Closest rival, Bounding, who beat the filly at Pukekohe in November, ran second.
Jockey Opie Bossom said, "I was surprised at that time. She felt like she was doing it easily. Fillys like this don't come along very often. If it was my horse I would have crack at the Golden Slipper in Sydney."
It was the first Group 1 win for trainer Stephen Marsh who said, "If anything, she's improved since the Karaka Million. She's completely professional."
A large contingency from the Almighty Dawn syndicate were on course to celebrate the win along with Go Racing Racing Manager, Albert Bosma.
Says Albert, "We'll monitor her this week. If she comes through well we will make a decision on the A$3.5 million Golden Slipper and set her for that race for which we would be prepared to pay the A$150, 000 late entry fee. The other option we are considering is the Group 1 AGC Sires Produce Stakes worth A$500,000."